Main

Process

Raku Firing

Meet the Fish



Coy Fish


Grinning Fish


Smiling Fish


Laughing Fish


Kissing Fish



School of Fish

Galleries & Shops

Order Info

Basket Contents

Checkout


Fish Pricing
Individual fish
22.00 ea
School of Fish - Discount
10%-off on 5 or more fish
Approx. Fish size 4x4x4 in.
Secure payment options
Visa / Master Card or
Check in US Funds
Shipping charges
$6.00 flat rate shipping
Regardless of amount ordered



One of a kind fish look great hanging alone or together in a school. Nina offers five of her most popular fish faces, in a variety of glaze colors, for collectors of these unique raku fired pottery ornaments.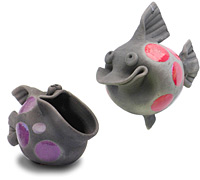 All of our fun fish sculptures are available as hanging fish or sitting fish and can be displayed at home or at work. (hanging fish pictured below) View the sitting fish here.
Our handmade pottery fish are approximately 4 x 4 x 4 inches. They come in a variety of colors and arrive ready to hang.
Catch of the Day
For speedy delivery, let Nina select your fish.

Coy Fish $22.00
Alternate View


Grinning Fish $22.00
Alternate View


Smiling Fish $22.00
Alternate View



Laughing Fish $22.00
Alternate View


Kissing Fish 22.00
Alternate View

Hanging fish

can be suspended from the ceiling with a cup hook or hung in a plant. See what you can come up with

!

Sitting fish are great for window sills, tables, nooks or places such as hospitals or convalescent centers where hanging a happy fish is not possible.