Payment Options Available

Visa / Master Card or
Check in US Funds
22.00 per fish

or . . .

School of Fish - Discount
Save 10% on 5 or more fish


Choose Ordering Method

On-Line ( secure Visa / MC )
Telephone ( call us now )



Approx. card size shown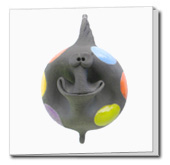 Free Gift Enclosure:
Would you like a gift card(s)?
We can fill out a card for you if this order is being shipped to another address or you can receive blank card(s) if the is order shipped to your address.
Please follow the instructions found in your e-mail confirmation.

U.S. Shipping Charges
Fish price includes all postal charges.
Shipping is only $6.00, regardless of size or amount.
All orders shipped priority mail VIA USPS
Allow 2-3 weeks for delivery