— Wholesale Raku Information —
Nina offers her distinctive raku pottery fish at quantity pricing to gift shops, galleries and museum stores. Please contact Nina by telephone or email to discuss wholesale ordering.
Phone: 541-510-2334
Email: Nina@RakuFish.com
Tell Me More About Wholesaling Happy Raku Fish

Raku fish are affordable.
Current sellers report to Nina that these funny fish are excellent conversation starters because they make customers laugh!
The hanging fish take no shelf space, and display well when placed above your sales counter.
Happy fish are perfect for all gift giving occasions, including "hard-to-buy-for" friends and family.
Vacationers appreciate the portability of these unique sea creatures that easily tuck into luggage & carry-ons.
Nina's wholesale polices include limiting her accounts to one per zip code.
Contact Nina now to add your business to her Where To Buy page.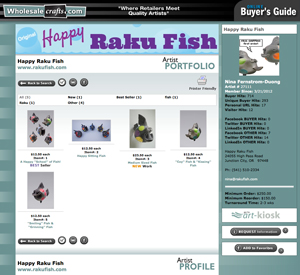 Additionally, wholesale buyers can choose to purchase Nina's Happy Raku Fish via Wholesale Crafts. This (free to buyers) on-line gallery provides many advantages for wholesale purchasers of quality crafts. Secure, on-line ordering can take place 24/7.
When visiting her Wholesale Crafts buyer's guide, be sure to scroll down to Terms & Shipping. The information contained here is specifically for wholesale buyers and is not included on this site, RakuFish.com.
For non-members & members, Nina invites you to access her Happy Fish Buyers Area:
Go to: www.wholesalecrafts.com/visitor
Artist #: 27111
Visitor Password: happyfish
If you like what you see and are interested in becoming a Wholesale Crafts member, take the Quick Tour at www.wholesalecrafts.com/mrk/Quick-tour.aspx to learn about the simple functionality of WholesaleCrafts.com.
Nina thanks you for your interest in Happy Raku Fish. The fish have been available for wholesale purchase since their debut in 1986 and have a long history of successful sales and reorders.

Copyright © 1986-2017 Happy Raku Fish. All Rights Reserved.